HYPERION specializes in providing complete safety solutions in the oil and gas industry.  Our goal is to secure a safe, secure  work environment for offshore and land-based operations.
About Hyperion
Although the name is new, we come with over 10 years of experience in the industry. Hyperion grew from a medical services provider in the Gulf of Mexico. We recognized the need for committed, efficient, and effective safety programs throughout the industry and took swift action implementing what has become Hyperion Safety Services. From 2000 until now, we have developed the premier integrated industrial safety services company providing safety, compliance, consulting  and regulatory solutions for the oil and gas industry.
OUR SAFETY SERVICES INCLUDE:
Safety Training
HSE Supervisors
Compliance Audits/inspections
On-site safety personnel
Environmental regulatory services
SEMS
Audits and Consultation
Fire watch personnel
*  Hyperion Safety services provides onsite safety representatives and coaches, safety auditors, confined space rescue teams, fire watches, API inspection teams for lines, pressure vessels, and storage tanks, SEMS compliance specialists, NORM surveyors, full H2S compliance and equipment for up and downstream operations,  including fully certified H2S technicians.
We strive to be the preferred safety services provider for oil and gas and/or petrochemical projects in domestic and international locations.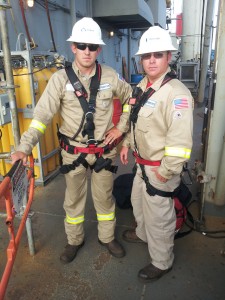 HYPERION SAFETY SERVICES, LLC
A Synergy Industrial Group Company
4621 Jamestown Ave
Baton Rouge, LA 70808
225-421-8537